International AMD Genomics Consortium Study of Age Related Macular Degeneration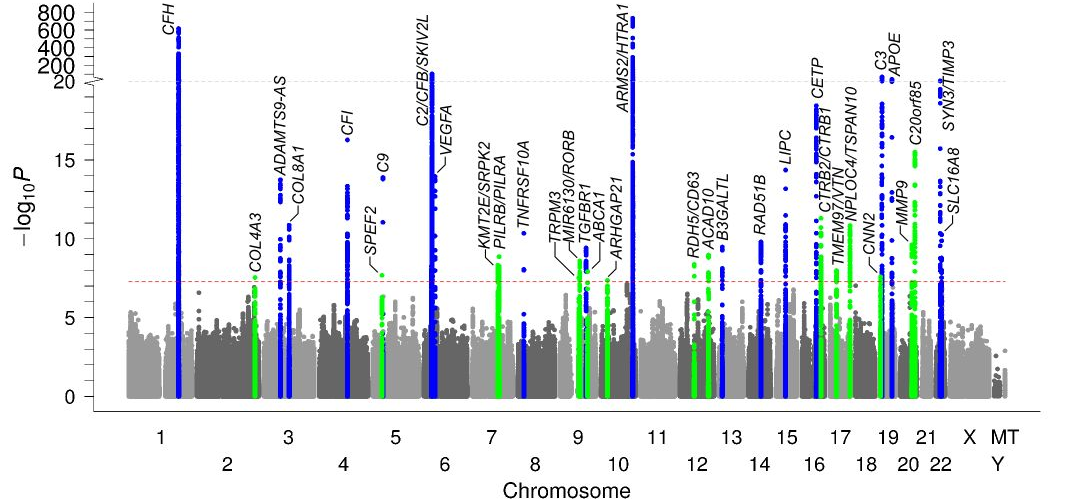 GWAS Results Table
The table below summarizes the results of the genome-wide analysis described in Fritsche et al. (2016) Nature Genetics. The table includes nine columns: the rs# for each SNP evaluated (if available, otherwise "chromosome:position"), chromosome and position in genome-build 37, the two alleles of the SNP in genome-build 37, the number of cases and controls evaluated for the SNP, the p-value for the SNP, the overall direction of effect (a positive statistic indicates allele 1 was associated with increased risk of macular degeneration). The files includes both genotyped and imputed SNPs and are provided in a compressed text file to conserve space.
To browse results in a user friendly fashion, try LocusZoom, and request the option to plot the published GWAS results ("Choose Pre-loaded Data Type" → Age-related Macular Degeneration → International_AMD_Consortium_2015_hg19)

RESULTS:
Advanced AMD vs. Control Analysis              GZIP Archive (about 150 MB)

Columns in Result File:
| | |
| --- | --- |
| Column Label | Description |
| Marker | This is the marker name. |
| Chrom | This is the chromosome |
| Pos | This is the position in genome-build 37 |
| Allele1 | This the allele used as the effect allele. |
| Allele2 | This is the "other" allele. |
| Ncases | The number of cases analysed for this marker. |
| Ncontrols | The number of controls analysed for this marker. |
| GC.Pvalue | P-value, after genomic control correction. |
| Overall | Overall direction of effect. Positive values indicate allele1 was associated with increased disease risk. |
CITATION: If you use these GWAS results in any published work, please cite the following manuscript:
Fritsche et al. (2015). A large genome-wide association study of age-related macular degeneration highlights contributions of rare and common variants. Nature Genetics. Advance online publication. doi:10.1038/ng.3448
Please e-mail Goncalo Abecasis or Lars Fritsche with comments or suggestions.